2018 Recipe Challenge Winner: Chicken (or Turkey) Croquettes
Healthy Recipe Challenge Ryan Gill spruces up the chicken nugget!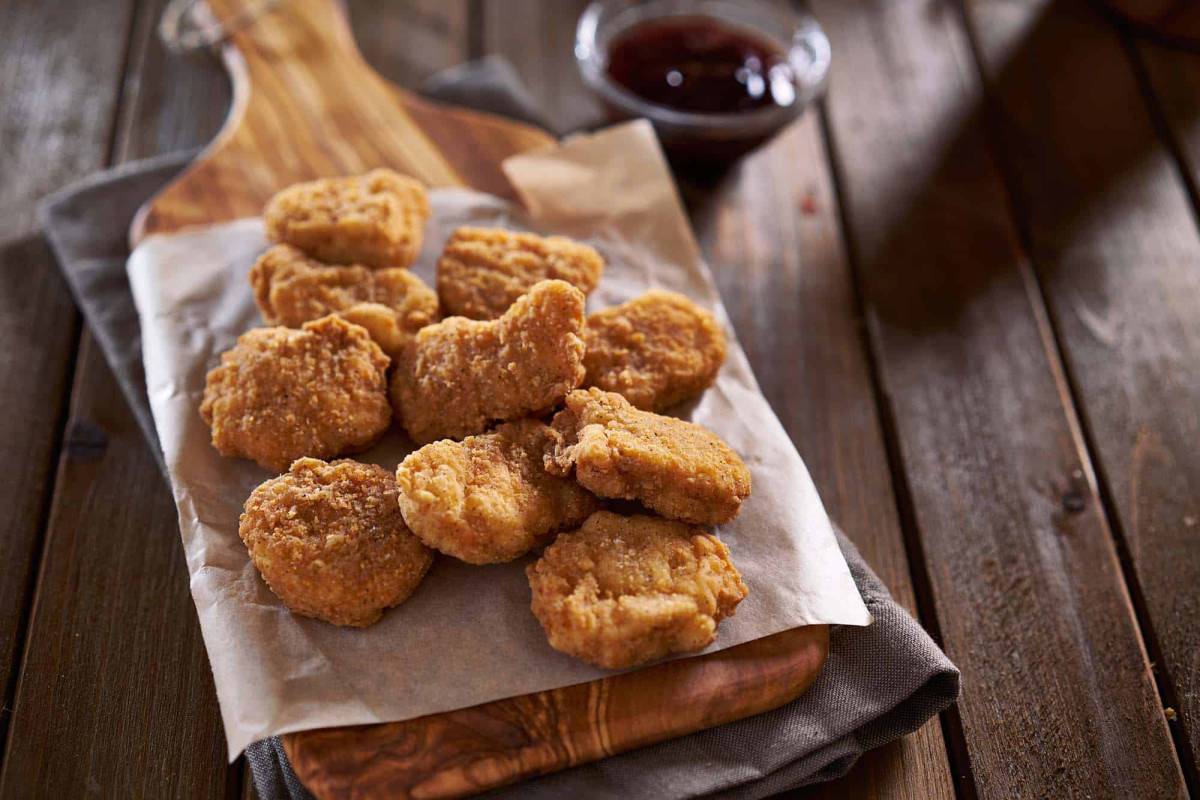 ---
Ingredients:
1/4 Cup Tablespoons Celery, Minced*
1/4 Cup Onion, Minced*
1/4 Cup Tablespoons Carrots, Minced*
1 1/2 Cups Canned or Fresh, Cooked Chicken or Turkey  (This amount comes from 1 and 1/2,10-ounce cans of chicken;1.13 lbs. bone-in chicken drumsticks;.56 lbs. boneless, skinless chicken breast; or about 1/3 of the meat from a 3 pound whole chicken)
Pinch of Salt and Pepper (less salt is needed if using canned chicken)**
3 Eggs
4 Cup Corn Flakes Cereal, Crushed
---
Directions:
Preheat the oven to 400 degrees.
Mince the onions, celery, and carrots.
In a small pot with a lid on it, sweat your vegetables with oil on low heat for 3 minutes.
Shred the fresh, cooked chicken or turkey. Or, chop canned chicken.
In a medium bowl, mix your shredded meat to the celery, onions, carrots, salt and pepper, a handful of the corn flakes, and an egg.
Add just a little water so the  mixture can be shaped into round balls.
Shape mix into round balls, about 3″ high, 2″ in diameter.
In a separate bowl, beat eggs with a fork.
In another bowl, crush corn flakes.
Coat the balls in egg and roll in corn flakes. Put on a greased baking dish, and place in the oven.***
The croquettes should bake for 15-20 minutes.
Notes: 
*Minced: finely chopped
**A Pinch: small amount you can pinch between your finger and thumb
***Wash hands right after handing eggs.
---
Allergy Warning:
For kids 2-4 years old, serve food in the following way:
Cut chicken into 1/2-inch pieces
---
Cut Down on Choking:
This recipe contains eggs and wheat:
*If you are allergic to eggs, try using 1/4 cup plain yogurt in place of each egg.
**If you are allergic to wheat; this cereal may have been processed in a facility that works with wheat. Try rice chex, puffed rice cereal or other gluten-free options.