2018 Recipe Challenge Runner-Up: Creamy Chicken (or Turkey) Broccoli Alfredo
Chefs-Students from the Northern Teir Career Center bring you this creamy, cheesy dish!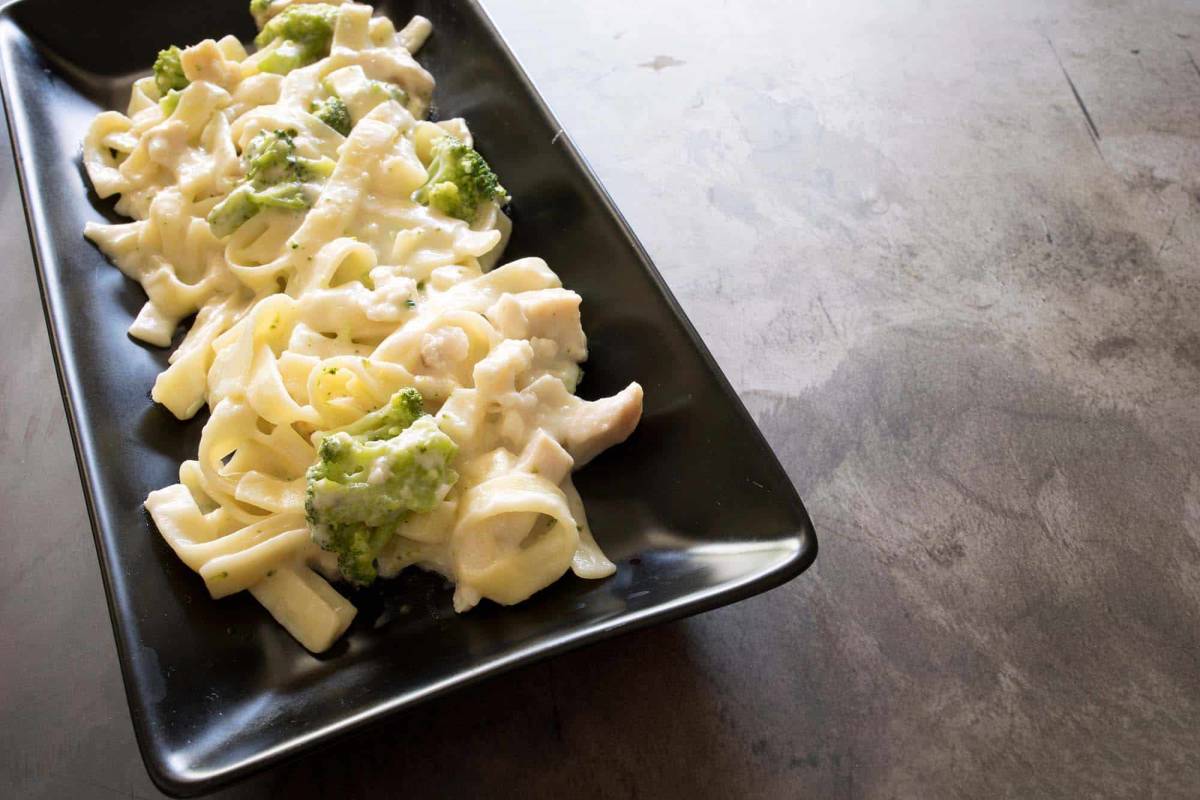 ---
Ingredients:
1 Box (1 lb.) Wheat Pasta
5 Tablespoons Butter
3 Whole Garlic Cloves, Minced (Or 1 Teaspoon Garlic Powder)*
4 Tablespoons All Purpose Flour
2 Cups 1% or skim Milk
2 Tablespoon Light or Neufchâtel Cream Cheese
1 ½ Cup Parmesan Cheese, Grated or Shredded
2 Cups Cooked, Shredded Chicken or Turkey (This amount comes from about 1.5 lbs. bone-in chicken drumsticks; .75 lbs. boneless, skinless chicken breast; about half of the meat from a 3 pound whole chicken; and 4, 4.5 ounce cans of chicken, drained)
3 ½ Cups Frozen Broccoli, Thawed (from the food bank, food pantry, Farmers Market Nutrition Program, or WIC Farerms Market Nutrition Program)
 ½ Teaspoons Salt and Pepper
1 Teaspoon Onion Powder
1 Teaspoon Parsley (Optional)
---
Directions:
Cook penne in salted water until al dente or according to package directions.
 Melt 1 tablespoon butter in small separate pan over medium heat. Add garlic and cook until fragrant, about 1-2 minutes. Take garlic off the heat.
In a medium-sized pot, melt the rest of the butter.
Once melted, add flour and stir together quickly with a fork or whisk. Butter and flour will form a paste which is called a "roux" and will help thicken your sauce. Cook for another 1-2 minute until lightly browned.
Add milk little at a time, stirring constantly with a fork or whisk to work out lumps. Then, after lumps are out, stir occasionally for about 6 minutes until thickened.
Add cream cheese. Stir with a fork or whisk until melted.
Remove sauce from heat.
Stir in parmesan, shredded chicken (or turkey), and broccoli into sauce. Stir until cheese is melted.
Add garlic, onion powder, salt and pepper.
Add cooked pasta to sauce, and stir until evenly coated.
Mix in parsley (optional).
Notes:
*Minced:  Finely chopped.
---
Allergy Warning:
This recipe contains wheat and milk:
*If you are allergic to wheat-based pasta; add rice, beans, or any gluten-free pasta alternative in its place.
**If you are allergic to milk; try soy, almond, rice or other dairy-free alternatives.
***If you are allergic to milk-based cheese, try soy-based cheese or other dairy-free alternative.
---
Cut Down on Choking:
For kids 2- 4 years old, serve food in the following ways:
Cut all pieces of the noodle dish into bite-sized, half-inch pieces.