You'll never know there are sneaky veggies in here!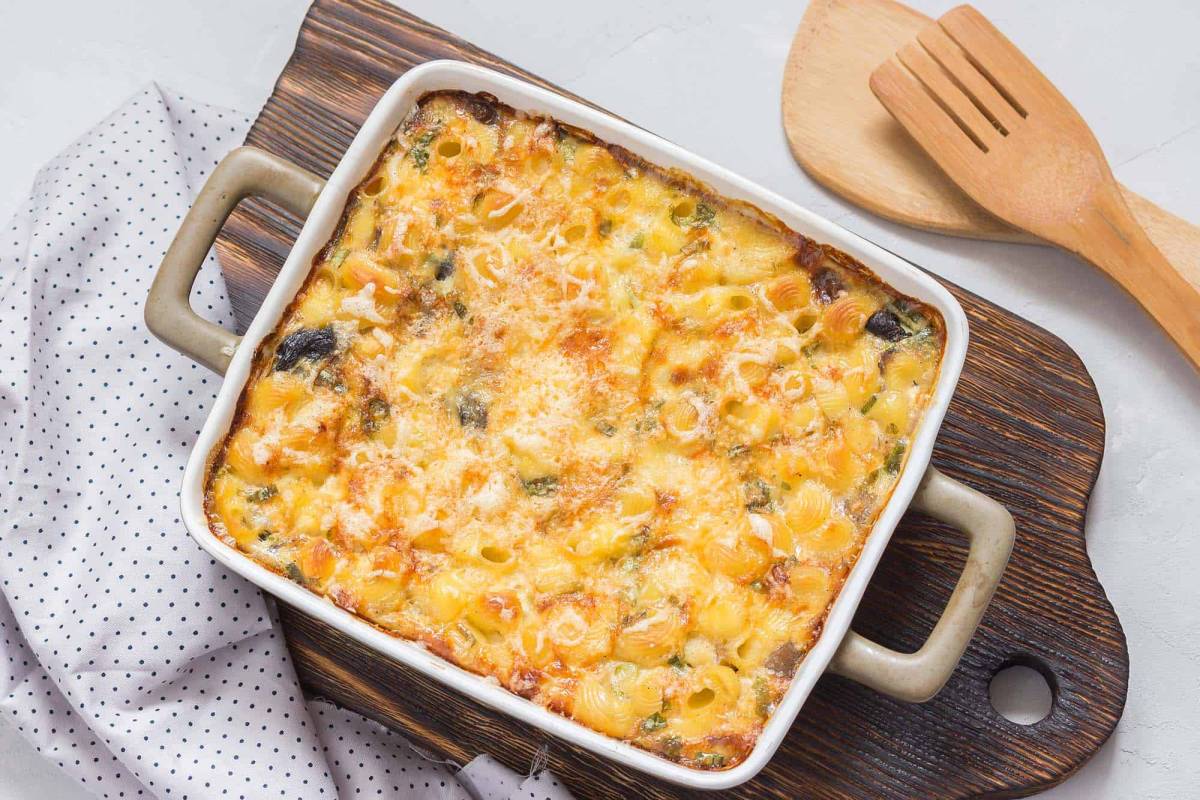 ---
Ingredients:
4 cups elbow macaroni or other similar shaped pasta, whole grain or regular, uncooked
2 cups cauliflower, chopped into 1/4 inch pieces
2 cups skim or 1% milk*
1/2 teaspoon garlic powder (or 2 garlic cloves, minced)
1 teaspoon salt
1/4 cup flour***
2 tablespoons cooking oil (vegetable, olive or canola oil) or butter
1 cup shredded, cubed or sliced cheese or 1/8 of a block of USDA block cheese**
---
Directions:
Cook pasta according to package directions.
Fill the same pot with 2 cups of water and cauliflower.
Over medium heat, bring to a boil.
Once boiling, cook the florets until soft, about 4 minutes.
Drain cauliflower.
Place the cooked cauliflower, 1/2 cup cup milk, garlic powder, and salt in a blender. Blend until mixture is smooth (mash with large fork or masher in your pot, if blender is not available).
In a separate large pot (big enough to combine pasta and sauce), heat oil or butter on medium heat. Add the flour and whisk until the mixture is smooth and flour is coated (use fork, if whisk is not available).
Add remaining 1 and 1/2 cup of milk to flour mixture. Cook the mixture until it bubbles and thickens, stirring regularly to make sure flour is completely mixed in.
Add cooked pasta, cauliflower mixture and cheese to the pot. Mix together until well blended. Remove from heat and serve.
Notes:
"Minced" means to cut or grind into very small pieces.
If you have old bread, you can turn it into bread crumbs for the top of the mac and cheese. Slice or cube the bread. Cook cubes in oven until dry and crispy. Place the cooled, dried bread in the food processor, blender, or plastic bag. Turn on the machine, or use your hands or the back of a large spoon to crush the bread into crumbs. Sprinkle on top of mac and cheese.
---
Allergy Warning:
This recipe contains milk and wheat.
*If you are allergic to milk, try a non-dairy alternative like soy milk or nut milk.
**If you are allergic to milk-based cheese, try soy-based cheese or other dairy free alternatives.
***If you are allergic to wheat, try a gluten free based flour.
---
Cut Down on Choking:
For kids 2-4 years old, serve food in the following ways:
Make sure all parts of the recipe are half inch pieces.