Corn, Blueberry, and Wild Rice Salad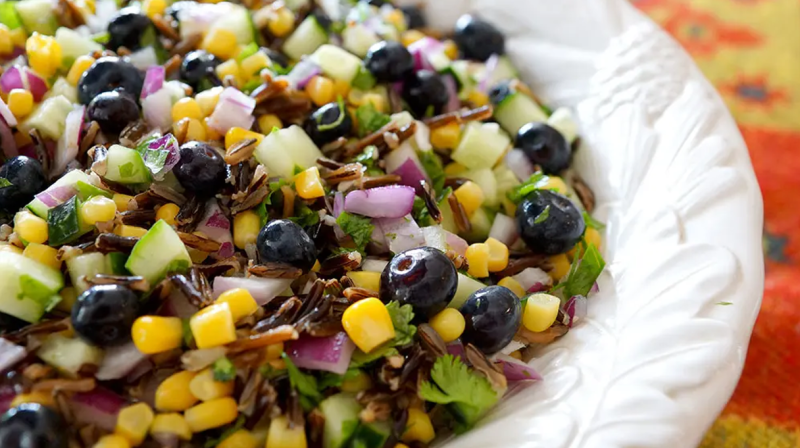 ---
Ingredients:
6 ears sweet corn, husked (or 1 ½ cups frozen corn or canned corn, drained)
1 cup frozen blueberries
1 small cucumber, finely chopped
1/4 cup finely chopped red onion
1/4 cup chopped fresh cilantro
1 cup wild rice, cooked
1 jalapeno pepper
4 tablespoons lime juice
4 tablespoons olive oil
2 tablespoons honey or maple syrup
1/2 teaspoon ground cumin
1/2 teaspoon salt
---
Directions:
In a large pot, bring salted water to a boil. Add corn. Cook covered for 5 minutes or until tender. If using corn on the cob, remove the corn from the cob after cooking.
In a serving bowl, combine corn, blueberries, cucumber, red onion, cilantro, wild rice, and jalapeno.
For dressing: in a screw-top jar, combine lime juice, oil, honey, cumin, and salt. Cover and shake well to combine. If you do not have a screw-top jar, you can whisk the ingredients in a small bowl.
Add dressing to the salad and toss.