2020 Exhibitor Information
PA NEN's Annual Conference, Nutrition Education With Public Health Approaches: Building Strong and Healthy Communities, will be here before you know it! Review of our exciting sponsorship and exhibiting opportunities.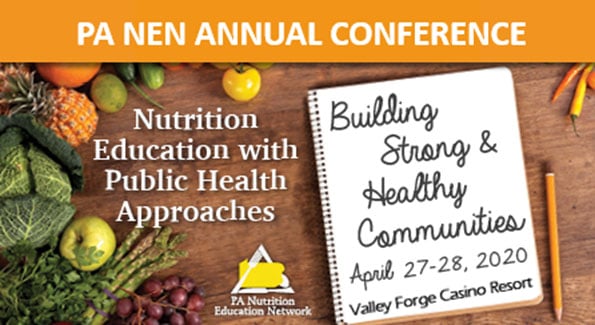 Our Attendees

Attendees include, but are not limited to: Nutrition Educators, Registered Dietitians, Health Professionals and Paraprofessionals, Early Childhood Educators, Anti-Hunger Advocates, School Food Service Directors, WIC Nutritionists, Diabetes Educators, and anyone concerned with food access issues and the nutritional needs of the low income population.

Expected attendance = 300

Exhibitor Fees

Exhibitor fees includes a 6 x 2.5 feet, clothed table, all meal functions, and entrance into one conference session. Please note that the vendor fee does not include a full conference registration.

PA NEN Member – $170-$605 based on electrical needs and number of table attendants
Non-Member- $190-$625 based on electrical needs and number of table attendants

Sponsorship Fees

Our Sponsorship Opportunities Flyer outlines opportunities for your consideration. We invite you to invest in our mission.

Sponsorship prices: $3,000-$7,000 based on the package that meets your needs

Exhibitor Tables

All exhibit tables include:

6 x 2.5 Foot Table with Linen
2-4 Chairs

All sponsors exhibitor setups will include:

8 x 8 Foot Booth Setup
2-4 Chairs

There is an extra fee for:

Access to Electric and Power Strip: $15.00 (plus tax)

Exhibitor Hours

Monday, April 27

Setup: 7:00 AM-12:00 PM
Exhibit Hours: 9:00 AM-5:00 PM
Conference Attendee Registration: 12:00-7:15 PM

Tuesday, April 28

Exhibit Hours: 9:00 AM-4:00 PM
Take Down: 2:45-5:30 PM
Conference Attendee Registration: 6:00 AM-3:00 PM

Exhibitor Floorplan

Exhibitors will set up in the Independence Foyer, near the Whisky Rebellion.
Sponsor booths will be set up in the Washington Area of the Independence Foyer.
Registration will be held in the Grand Foyer.
Awards Ceremony and Networking Reception are at the Grand Exclusive.

Shipping Information

Equipment may be shipped to the hotel. They ask that packages arrive no sooner than 3 business days prior to the conference. Please retain all tracking numbers and have them available should they be required.

Packages received 72 hours prior to the event will incur a charge of $25 per day plus $47 per one-hundred pounds. Storage fees may apply and prices for handling the boxes depend on the weight of the packages.

Any packages left 3 days after the conference will be discarded. If packages need shipped back to your organization, a Shipping Form must be completed & shipping arrangements made prior to departure. Please notify Amanda Frankeny to retrieve this form. These arrangements will only be considered, if they are made prior to 1 week before the conference begins.

Shipping and Freight Address:
Beth Pasquale, CMP/PA NEN Conference
Valley Forge Casino Resort
1160 1st Ave
King of Prussia, PA 19406

The following information must be on the package(s):

Name, company's name, address and phone number of sender
Arrival date
PA NEN Conference contact, Amanda Frankeny​
Total number of boxes
Reference: Beth Pasquale, CMP, Convention Service Manager
Mark it with: "Hold for Arrival".

Overnight Exhibitor and Attendee Room Rates

We are hosting our conference at the Valley Forge Casino Resort located at 1160 1st Ave, King of Prussia, PA 19406.

You are responsible for their own accommodations and should make reservations directly with the hotel.

The room block is now open. You can make your reservation by calling 610-354-8118. Ask for the "PA NEN Annual Conference Block in the Valley Tower".

The room rate will be $129/night until March 27, 2020. All guestroom rates are subject to the current state & local occupancy tax of 6% and 4% per room plus any additional taxes or fees that may be owed at the time the rooms are occupied. Tax rates are subject to change without notice.
---
Please, go back to our Exhibitor Interest Form to apply to be an Exhibitor or Sponsor.